Additional Information
Product Name:
GST-RNF4
Also Known As:
SLX5; SNURF; RES4-26
Catalog No.:
K1100
Size:
50 µg
Molecular Weight:
21.3 kDa
Species:
Human
Source:
Bacterial recombinant
Stock:
20 mM Tris, 150 mM NaCl, 2 mM βME, 10% Glycerol
Concentration:
See tube label
Quality Assurance:
~90% by SDS-PAGE, see datasheet for gel image
Storage:
Store at -80°C; avoid multiple freeze-thaw cycles
PDF Data Sheet:

PDF Datasheet

,

MSDS

NCBI RefSeq:
NM_001185009
Image(s):
(Click image to enlarge)

Coomassie-stained SDS-PAGE
Lane 1: Molecular weight markers
Lane 2: 5 µg purified GST-RNF4


Shipping Method:
Dry ice shipping
References:
1. Chiariotti L, et al. (1998) Genomics 47(2), 258 – 265. 2. Fedele M, et al. (2000) J Biol Chem 275(11), 7894 – 7901. 3. Hunter T, Sun H (2008) Ernst Schering Found Sump Proc (1), 1 – 16. 4. Tatham MH, et al. (2008) Nat Cell BIol 10(5), 538 – 546. 5. Bruderer R, et al. (2011) EMBO Rep 12(2), 142 – 148.
Details
RING-finger 4 (RNF4), also known as Snurf, is an E3 ubiquitin ligase. RNF4 is composed of four SUMO interaction motifs (SIMs) at the N-terminal and a RING domain at the C-terminal. The SIM domains prefer binding polySUMO chains; RNF4 functions to ubiquitinate polysumolyated proteins including promyelocytic leukaemia (PML), which target them for proteasomal degradation.
Images:
(Click image to enlarge)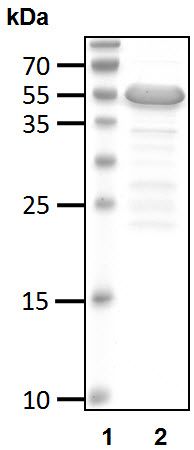 Coomassie-stained SDS-PAGE
Lane 1: Molecular weight markers
Lane 2: 5 µg purified GST-RNF4