Additional Information
Product Name:
HA-Ub-VME
Also Known As:
N/A
Catalog No.:
M1010
Size:
25 µg
Molecular Weight:
9913 Da by MS
Species:
Human
Source:
Synthetic
Stock:
Product in lyophilized powder form.
Concentration:
N/A
Quality Assurance:
≥95% by RP-HPLC
Storage:
Powder at −20°C; solution at −80°C. Avoid multiple freeze/thaw cycles.
PDF Data Sheet:

PDF Datasheet

,

MSDS

NCBI RefSeq:
N/A
Image(s):
(Click image to enlarge)

Coomassie-stained SDS-PAGE
Lane 1: HA-Ub-VME
Lane 2: Ubiquitin
Lane 3: Molecular weight markers

Shipping Method:
FedEx
References:
1. de Jong et al., (2012) ChemBioChem 13, 2251. 2. Borodovsky et al., (2001) EMBO J. 20, 5187. 3. Borodovsky et al., (2002) Chemistry and Biology 9, 1149. 4. El Oualid et al., (2010) Angew. Chem. Int. Ed. 49, 10149.
Details
A potent, irreversible and specific inhibitor of deubiquitinating enzymes (DUBs) that is prepared by chemical synthesis. It is N-terminally tagged with an HA-tag (YPYDVPDYA), which allows for sensitive identification or purification of DUBs since it is specifically recognized by anti-HA antibodies. The HA tag is separated from the Ub N-terminus by two aminohexanoic acid (Ahx) linkers for efficient recognition of the HA tag.
Sample Preparation:
Dissolve the powder in DMSO (e.g. add 1.25 μl DMSO to 25 μg powder to get 20 mg/ml or 2.25 mM DMSO stock) and add this DMSO stock to the required buffer (please note the order of addition). Typical reaction concentrations vary from 0.2 - 2 mM.
Images:
(Click image to enlarge)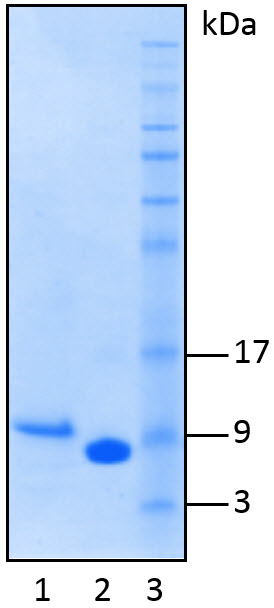 Coomassie-stained SDS-PAGE
Lane 1: HA-Ub-VME
Lane 2: Ubiquitin
Lane 3: Molecular weight markers