Additional Information
Product Name:
6xHis-NEMO (UBAN)
Also Known As:
IKBKG; IP; IP1; IP2; FIP3; IPD2; NEMO; FIP-3; Fip3p; AMCBX1; ZC2HC9; IKK-gamma
Catalog No.:
I1521
Size:
500 µg
Molecular Weight:
18.4 kDa
Species:
Human
Source:
Bacterial recombinant
Stock:
20 mM Tris, 150 mM NaCl, 2 mM βME, 10% Glycerol
Concentration:
See tube label
Quality Assurance:
~95% by SDS-PAGE, see datasheet for gel image
Storage:
Store at -80°C; avoid multiple freeze-thaw cycles
PDF Data Sheet:

PDF Datasheet

,

MSDS

NCBI RefSeq:
NM_001099857
Image(s):
(Click image to enlarge)

Coomassie-stained SDS-PAGE
Lane 1: Molecular weight markers
Lane 2: 5 µg purified 6xHis-NEMO (UBAN)


Shipping Method:
Dry ice shipping
References:
1. van Wijk SJ, et al. (2013) Nat Protoc. 8(7):1449-58 2. van Wijk SJ, et al. (2012) Mol Cell. 14;47(5):797-809
Details
6xHis was fused on the N-terminus of the linear polyubiquitin chain binding domain of NEMO encompassing amino acids 183-339. This fusion protein can be used for in vitro pulldown assays and for enrichment of cellular proteins conjugated with linear polyubiquitin chains in whole cell or tissue lysates. 6xHis-NEMO (UBAN) can be precipitated using Nickel resin. After washing, 6xHis-NEMO (UBAN) and its bound proteins can be eluted by a buffer containing 200 mM imidazole.
Images:
(Click image to enlarge)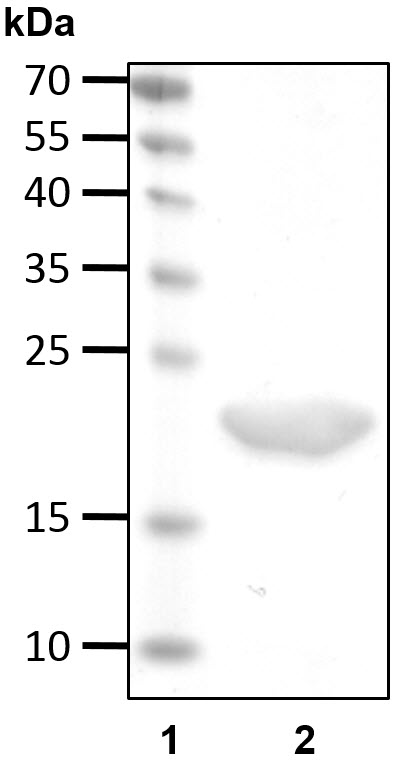 Coomassie-stained SDS-PAGE
Lane 1: Molecular weight markers
Lane 2: 5 µg purified 6xHis-NEMO (UBAN)

Note:
1. NEMO(183-339) may also bind long polyubiquitin chains linked via lysine 63.
2. Dissolve 10 mM glutathione in a neutral buffer could drop pH to 3-4. Use 0.2 M NaOH to ad-just pH back to neutral.