Additional Information
Product Name:
GST-Ubiquitin(1-75)
Also Known As:
GST-Ub(1-75)
Catalog No.:
E1210
Size:
1 mg
Molecular Weight:
8.5 kDa
Species:
Human
Source:
Bacterial recombinant
Stock:
20 mM Tris, 150 mM NaCl, 2 mM βME, 10% Glycerol
Concentration:
See tube label
Quality Assurance:
~95% by SDS-PAGE, see datasheet for gel image
Storage:
Store at -80°C; avoid multiple freeze-thaw cycles
PDF Data Sheet:

PDF Datasheet

,

MSDS

NCBI RefSeq:
N/A
Image(s):
(Click image to enlarge)

Coomassie-stained SDS-PAGE
Lane 1: Molecular weight markers
Lane 2: 5 µg purified GST-Ubiquitin(1-75)


Shipping Method:
FedEx
References:
1. Hershko A, et al. (1980) Proc Natl Acad Sci USA 77(4), 1783 – 1786. 2. Pickart CM (1997) FASEB 11(13), 1055 – 1066. 3. Hershko A, et al. (1998) Ann Rev Biochem 67, 425 – 479. 4. Jiang X, et al. (2012) Nature Reviews Immunology 12, 35 – 48. 5. Bremm A, et al. (2012) Methods Mol Biol 832, 291 – 228.
Details
Ub75 lacks the amino acid glycine 76, which is required to form thioester bond with Ub activating enzyme E1. Therefore, Ub75 can not react with E1, E2 and E3 enzymes; and does not support ubiquitination. It can be used as a negative control in ubiquitination reactions; or to assay binding of Ub with Ub binding proteins or ubiquitination enzymes. This product can be used in pulldown assays to determine ubiquitin-binding proteins.
Images:
(Click image to enlarge)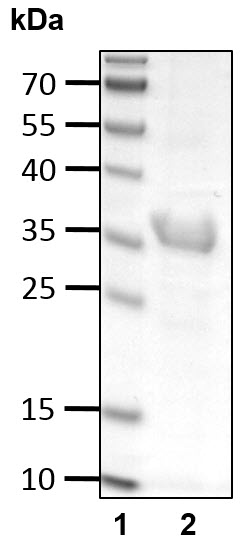 Coomassie-stained SDS-PAGE
Lane 1: Molecular weight markers
Lane 2: 5 µg purified GST-Ubiquitin(1-75)