Additional Information
Product Name:
GST-Ubiquitin (+1)
Also Known As:
GST-Ub (+1)
Catalog No.:
E1220
Size:
250 µg
Molecular Weight:
10.8 kDa
Species:
Human
Source:
Bacterial recombinant
Stock:
20 mM Tris, 150 mM NaCl, 2 mM βME, 10% Glycerol
Concentration:
See tube label
Quality Assurance:
~90% by SDS-PAGE, see datasheet for gel image
Storage:
Store at -80°C; avoid multiple freeze-thaw cycles
PDF Data Sheet:

PDF Datasheet

,

MSDS

NCBI RefSeq:
N/A
Image(s):
(Click image to enlarge)

Coomassie-stained SDS-PAGE
Lane 1: Molecular weight markers
Lane 2: 5 µg purified GST-Ubiquitin (+1)
Lane 2: 5 µg purified Ubiquitin (+1)


Shipping Method:
FedEx
References:
1. van Tijn, P. et al. (2007) J. Cell Sci. 120:1615. 2. van Leeuwen FW, et al. (2002) Int J Biochem Cell Biol. 34(11):1502-5.
Details
Ubiquitin (+1) consists of the first 75 amino acids of ubiquitin, but lacks glycine 76 because of the deletion of two of the three nucleotides that encode glycine 76. The resulting frame shift leads to the addition of 20 amino acids (YADLREDPDRQDHHPGSGAQ) after glycine 75. Ubiquitin (+1) can not support ubiquitination reactions. When expressed at high levels, it could inhibit proteasomal degradation. Ubiquitin (+1) was also found in protein aggregates in patient brains of Alzheimer's disease and other neurodegenerative diseases.
Images:
(Click image to enlarge)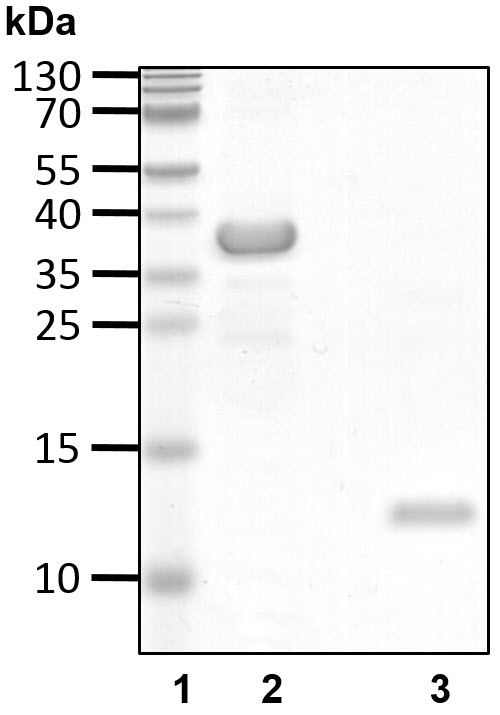 Coomassie-stained SDS-PAGE
Lane 1: Molecular weight markers
Lane 2: 5 µg purified GST-Ubiquitin (+1)
Lane 2: 5 µg purified Ubiquitin (+1)