Additional Information
Product Name:
Anti-20S Proteasome
Also Known As:
Anti-20S Proteasome Rabbit Polyclonal Antibody
Catalog No.:
Y2011
Size:
100 µg
Molecular Weight:
~55/25 kDa
Species:
Bovine
Source:
Bovine 20S proteasome
Stock:
10 mM PBS (pH 7.2), 10% Glycerol, 0.09% NaN3 (sodium azide)
Concentration:
2 µg/µl
Quality Assurance:
Guaranteed for detecting endogenous 20S proteasome in 20 µg cell or tissue lysates
Storage:
Store at -20°C. Centrifuge after first thaw to maximize product recovery. Aliquot to avoid repeated freeze-thaw cycles.
PDF Data Sheet:

PDF Datasheet

,

MSDS

NCBI RefSeq:
N/A
Image(s):
(Click image to enlarge)
1:1000 dilution of the Anti-20S Proteasome antibody for detecting 10 µg (lane 1) and 20 µg (lane 2) of whole HeLa cell lysates. Asterisks mark non-specific bands.
Shipping Method:
Wet ice shipping
References:
N/A
Details
Specificity
Recognizes human, bovine and mouse 20S proteasome; other species has not been tested.
Purification
Protein A affinity chromatography
Applications
WB
Working Conditions
WB (with ECL): 1:1000-2000 dilution For best results with other assays (e.g.: Dot, ELISA, IS, etc), please determine optimal working dilution by titration test
Images
(Click image to enlarge)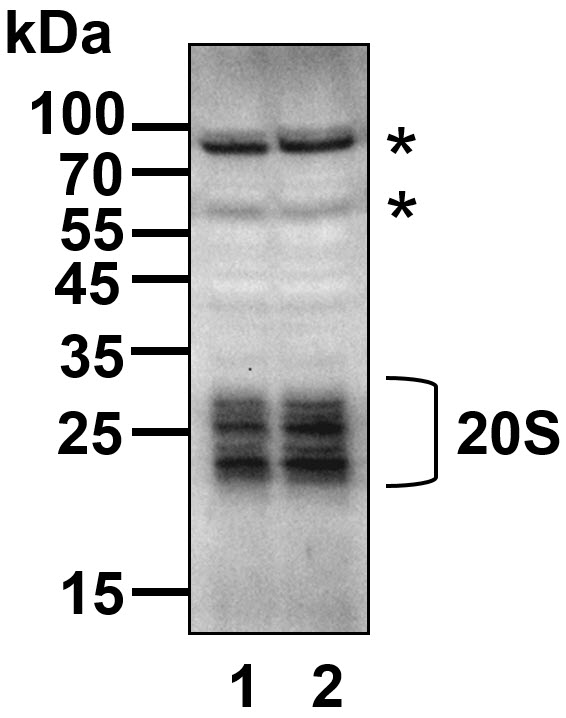 1:1000 dilution of the Anti-20S Proteasome antibody for detecting 10 µg (lane 1) and 20 µg (lane 2) of whole HeLa cell lysates. Asterisks mark non-specific bands.