Additional Information
Product Name:
GST-Ube2K (E2-25K)
Also Known As:
LIG; HIP2; HYPG; UBC1; E2-25K; DKFZp564C1216; DKFZp686J24237
Catalog No.:
C2800
Size:
25 µg
Molecular Weight:
22.4 kDa
Species:
Human
Source:
Bacterial recombinant
Stock:
20 mM Tris, 150 mM NaCl, 2 mM βME, 10% Glycerol
Concentration:
See tube label
Quality Assurance:
~90% by SDS-PAGE, see datasheet for gel image
Storage:
Store at -80°C; avoid multiple freeze-thaw cycles
PDF Data Sheet:

PDF Datasheet

,

MSDS

NCBI RefSeq:
NM_005339
Image(s):
(Click image to enlarge)

Coomassie-stained SDS-PAGE
Lane 1: Molecular weight markers
Lane 2: 5 µg purified GST-Ube2K (E2-25K)


Shipping Method:
Dry ice shipping
References:
1. Kalchman MA, et al. (1996) J Biol Chem 271, 19385 – 19394. 2. Haldeman MT, et al. (1997) Biochemistry 36(34), 10526 – 10537. 3. Yao T, et al. (2000) J Biol Chem 275, 36862–36868.
Details
Ube2K (or E2-25K) is an E2 enzyme, which is part of the E1, E2, and E3 cascade responsible for ubiquitination of protein substrates. It contains a C-terminal UBA domain and an E2 catalytic domain. Ube2K contains a 47 amino acid residue tail that contributes greatly to its specific characteristics. Ube2K is one of the E2s that are capable of forming K48-linked polyubiquitin chains.
Images:
(Click image to enlarge)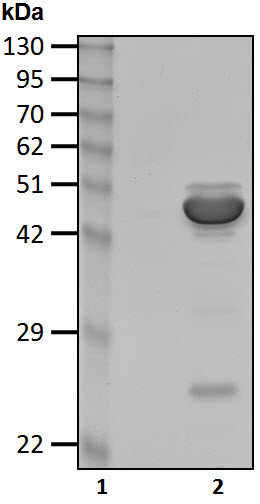 Coomassie-stained SDS-PAGE
Lane 1: Molecular weight markers
Lane 2: 5 µg purified GST-Ube2K (E2-25K)