Additional Information
Product Name:
6xHis-Ube2C (UbcH10 )
Also Known As:
UBCH10; dJ447F3.2
Catalog No.:
C1300
Size:
25 µg
Molecular Weight:
19.7 kDa
Species:
Human
Source:
Bacterial recombinant
Stock:
20 mM Tris, 150 mM NaCl, 2 mM βME, 10% Glycerol
Concentration:
See tube label
Quality Assurance:
~95% by SDS-PAGE, see datasheet for gel image
Storage:
Store at -80°C; avoid multiple freeze-thaw cycles
PDF Data Sheet:

PDF Datasheet

,

MSDS

NCBI RefSeq:
NM_007019
Image(s):
(Click image to enlarge)

Coomassie-stained SDS-PAGE
Lane 1: Molecular weight markers
Lane 2: 5 µg purified 6xHis-Ube2C (UbcH10 )


Shipping Method:
Dry ice shipping
References:
1. Hershko A, et al. (1994) J Biol CHem 269, 4940 – 4946. 2. Aristarkhov A, et al. (1996) Proc Natl Acad Sci USA 93(9), 4294 – 4299. 3. Rape M, et al. (2006) Cell. 124(1), 89 – 103. 4. Berlingieri MT, et al. (2007) Oncogene 26, 2136 – 2140.
Details
UbcH10 (Ubc2C) is an E2 enzyme, which is part of the E1, E2, and E3 cascade responsible for ubiquitination of protein substrates. It plays a major role in the mitosis in cell cycle by binding to the anaphase-promoting complex/cyclosome (APC/C), which causes autoubiquitination and degradation of UbcH10. This in turn stabilizes cyclin A, promoting cells enter into S phase. UbcH10 also promotes ubiquitination of many substrates of APC/C.
Images:
(Click image to enlarge)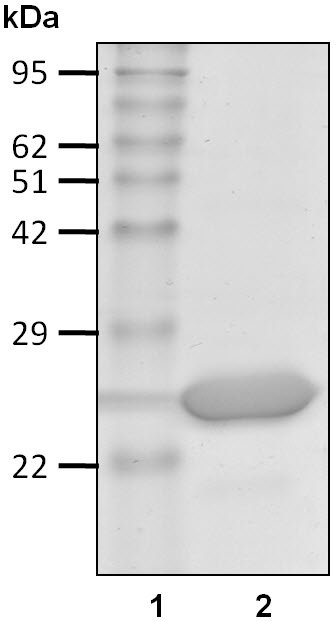 Coomassie-stained SDS-PAGE
Lane 1: Molecular weight markers
Lane 2: 5 µg purified 6xHis-Ube2C (UbcH10 )