Additional Information
Product Name:
6xHis-Ube2A (Rad6A)
Also Known As:
UBC2; HHR6A; MRXSN; RAD6A; MRXS30
Catalog No.:
C1101
Size:
100 µg
Molecular Weight:
17.1 kDa
Species:
Human
Source:
Bacterial recombinant
Stock:
20 mM Tris, 150 mM NaCl, 2 mM βME, 10% Glycerol
Concentration:
See tube label
Quality Assurance:
~95% by SDS-PAGE, see datasheet for gel image
Storage:
Store at -80°C; avoid multiple freeze-thaw cycles
PDF Data Sheet:

PDF Datasheet

,

MSDS

NCBI RefSeq:
NM_003336
Image(s):
(Click image to enlarge)

Coomassie-stained SDS-PAGE
Lane 1: Molecular weight markers
Lane 2: 5 µg purified 6xHis-Ube2A (Rad6A)


Shipping Method:
Dry ice shipping
References:
1. Jentsch S, et al. (1987) Nature 329(6135), 131 – 134. 2. Koken MH, et al.(1991) Proc Natl Acad Sci USA 88(20), 8865 – 8869. 3. de Leeuw N, et al. (2010) Am J Med Genet A 152A(12), 3084 – 3090. 4. Hibbert RG, et al. (2011) Proc Natl Acad Sci USA 108, 5590–5595.
Details
Ube2A is an E2 enzyme, which is part of the E1, E2, and E3 cascade responsible for ubiquitination of protein substrates. It shares 95% amino acid sequence identity with Ube2B. One function of Ube2A involves the formation of Ube2A/Rad18 (an E3 enzyme) complex to monoubiquitinate proliferating cell nuclear antigen (PCNA) thus activating it to repair DNA damage. Ube2A is an X – chromosomal gene. Mutations in Ube2A have been linked to intellectual disability (ID), severely impaired speech, amongst other symptoms.
Images:
(Click image to enlarge)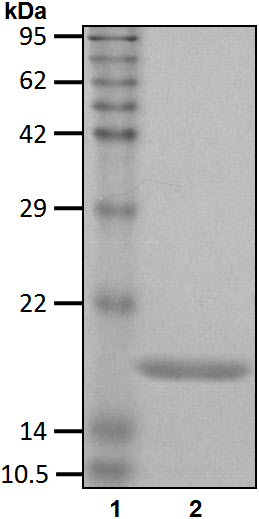 Coomassie-stained SDS-PAGE
Lane 1: Molecular weight markers
Lane 2: 5 µg purified 6xHis-Ube2A (Rad6A)