Additional Information
Product Name:
UBE1
Also Known As:
UBA1;A1S9; A1ST; GXP1; UBE1; A1S9T; AMCX1; POC20; SMAX2; UBA1A; UBE1X
Catalog No.:
B1100
Size:
25 µg
Molecular Weight:
117.8 kDa
Species:
Human
Source:
Sf21 insect cells
Stock:
20 mM Tris, 150 mM NaCl, 2 mM βME, 10% Glycerol
Concentration:
See tube label
Quality Assurance:
~95% by SDS-PAGE, see datasheet for gel image
Storage:
Store at -80°C; avoid multiple freeze-thaw cycles
PDF Data Sheet:

PDF Datasheet

,

MSDS

NCBI RefSeq:
NM_003334
Image(s):
(Click image to enlarge)

Coomassie-stained SDS-PAGE
Lane 1: Molecular weight markers
Lane 2: 5 µg purified UBE1


Shipping Method:
Dry ice shipping
References:
1. Handley PM, et al. (1991) Proc Natl Acad Sci USA 88, 258 – 262. 2. Zheng M, et al. (2009) Mol Biol Rep 37, 1413 – 1419. 3. Schulman BA, et al. (2009) Nat Rev Mol Biol 10(5), 319 – 331.
Details
UBE1 is an E1 enzyme within the E1, E2, E3 cascade which conjugates Ub to protein substrates. UBE1 activates Ub by catalyzing an ATP – dependent reaction; Ub is conjugated onto the catalytic cysteine residue of UBE1 by formation of a thioester bond. The activated Ub is then passed on to a Ub-conjugating enzyme E2; Ub charged E2 binds a Ub ligase E3 that directly binds substrate proteins. Ub is transferred to the HECT domain E3s prior to being conjugated on substrate proteins. For RING domain E3s, Ub is transferred directly from an E2 to substrate proteins.
Images:
(Click image to enlarge)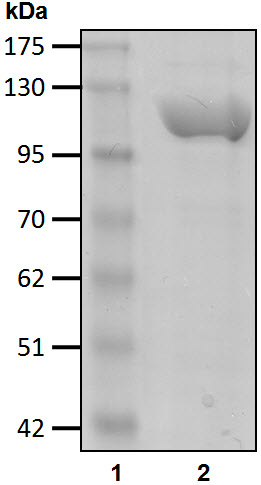 Coomassie-stained SDS-PAGE
Lane 1: Molecular weight markers
Lane 2: 5 µg purified UBE1